Veterinary Assistant Requirements
Our NAVTA-approved veterinary assistant course vet assistant course allows you to turn your passion for helping animals into a rewarding career by teaching you the veterinary assistant requirements necessary to become a more attractive job candidate. Our vet assistant school is one of only a few online programs to be approved by the National Association of Veterinary Technicians in America (NAVTA). 
Learn more about our program by calling 800-795-3294.
Our Veterinary Assistant Program is designed to prepare you for a career with animals. When you enroll, you learn everything from surgical preparation to small animal nursing. After successful completion of the prior stages, you'll then be placed in a veterinary environment to complete your externship. During your externship, you'll be given the opportunity to interact with professionals in the veterinary industry. 
Veterinary Assistant School Overview
Our Veterinary Assistant Program makes it possible to: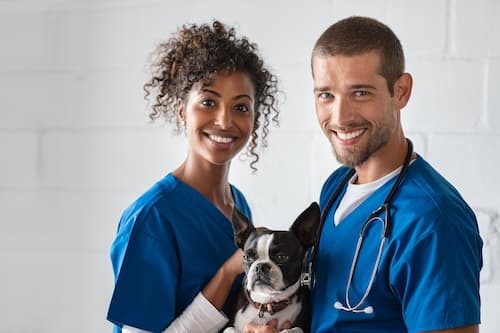 Get your education online
Acquire practical skills you can apply in real-life settings
Receive Pet CPR and First Aid Certification
Experience what it's like to work in a veterinary hospital
Receive ongoing student support
Invest in your future doing what you love
Receive study materials and ABC scrubs
Earn your vet assistant certification
Switching careers doesn't necessarily mean you quit your day job to return to school. You can study your way into an animal care job by taking our veterinary assistant course online. Make your childhood dream of helping animals a reality at ABC. Contact 800-795-3294 for more information.
NAVTA-Approved Curriculum
Why enroll in any other program when you can learn at a NAVTA-approved vet assistant school? Our curriculum is annually reviewed by registered veterinary technicians who have had decades of experience working with animals. Given the high regard, the veterinary community has for the NAVTA approval, getting your ABC veterinary assistant certification may be the right step toward your career.
Real World Vet Assistant Training & Mentorship
Experience is an important component when becoming a veterinary assistant. Fortunately, you can receive relevant veterinary assistant training experience during the externship part of our program. We have relationships with more than 4,000 veterinary facilities across the U.S. and Canada, providing you with the opportunity to receive on-the-job training experience.
You will be assigned an externship location in your area. There, you'll complete 100 hours of unpaid work experience. During the externship, you may apply some of the skills you acquired during the in-home study portion and observe active professionals in the industry.
Vet Assistant Tuition & Financing
Tuition for our vet assistant school ranges from $2,999 USD to $5,630 USD, depending on your chosen payment plan.* This cost covers all learning materials, including the real world training externship. Don't let the high costs of other vet assistant schools hold you back from pursuing your dream career.
*Ask about our discount for Active Military and Veterans who enroll in our distance learning courses
Military Spouses May Qualify for Free Tuition
Are you a military spouse? You may receive up to $4,000 toward your tuition costs, including course materials and externship. ABC has years of experience working with military spouses and we understand the importance of a portable career. Learn if you qualify for this educational benefit through Military Spouse Career Advancement Accounts (MyCAA) by calling Animal Behavior College directly at 800-795-3294.
Flexible Schedule & Online Study
Learning can be easy when you can access the entire curriculum online. Complete our veterinary assistant course no matter where you live within the United States or Canada. One of the best parts of our online program is you can study on your own time. Flexible scheduling may afford you the opportunity to keep your job, balance home life and pursue certification.
Always Located Near You
No matter where you live, or where you're transferred to within the U.S. or Canada, Animal Behavior College is available to you. Given our network of over 4,000 veterinary facilities, we're able to offer you this real-world training experience.
Student Support From Veterinary Assistant Professionals In The Field
Stay on track with the help, guidance and support of your ABC Program Manager. Each Program Manager is a Registered Veterinary Technician (RVT) who has years of personal on-the-job working experience in a veterinary facility. In your one-on-one working relationship with your Program Manager, you can benefit from their years of animal handling and veterinary experience.  Upon successful completion of the program, you'll become an Animal Behavior College Veterinary Assistant (ABCVA). Certification through our NAVTA-approved program demonstrates your knowledge in the veterinary field to potential employers. 
Veterinary Assistant Certification
Upon successful completion of the program, you'll become an Animal Behavior College Veterinary Assistant (ABCVA). Your vet assistant certification demonstrates your knowledge in the veterinary field and shows employers you've successfully completed our NAVTA-approved Veterinary Assistant Program.      
Veterinary Assistant School Curriculum
Animal Behavior College can prepare you for a professional career in the veterinary field You'll learn the fundamentals and requirements of as well as gain real world experience in a veterinary hospital or clinic. 
Stage 1 Office Etiquette & Hospital Procedures: Explains the various roles of each veterinary team member.
Stage 2 Animal Restraint: Teaches you the fundamentals and fine points of animal restraint.
Stage 3 Examination Room Procedures: Covers basic examination room preparation as well as patient background and physical examination procedures.
Stage 4 Pharmacy & Pharmacology: Explains the fundamentals of an in-house veterinary pharmacy.
Stage 5 Surgical Preparation & Assisting: Describes your responsibilities before, during and after a surgical procedure.
Stage 6 Small Animal Nursing: Covers the fundamentals of small animal nursing.
Stage 7 Laboratory Procedures: Explains basic laboratory procedures.
Stage 8 Radiology & Ultrasound Imaging: Instructs you on proper radiology and ultrasound techniques as a means of diagnoses.
Stage 9 Career Building: Provides you career advice you can apply to possibly secure a solid veterinarian assistant position.
Stage 10 Externship: Gives you invaluable on-the-job training experience at a veterinary hospital.
Stage 11 Final Exam & Graduation
Pave the Way to a Veterinary Assistant Career Today
Animals are always in need of your help and some employers may welcome veterinary assistants certified through a NAVTA-approved program. You can make a difference as a veterinarian assistant. Stop dreaming and start doing.
This program's officially approved title is Veterinary Assistant. However for grammatical reasons and purposes of clarity it is sometimes referred to as the Veterinary Assistant Program and the Vet Assistant Program.
Please note: Animal Behavior College does not guarantee employment after graduation. 
*Additional shipping and handling charges may apply.
Save